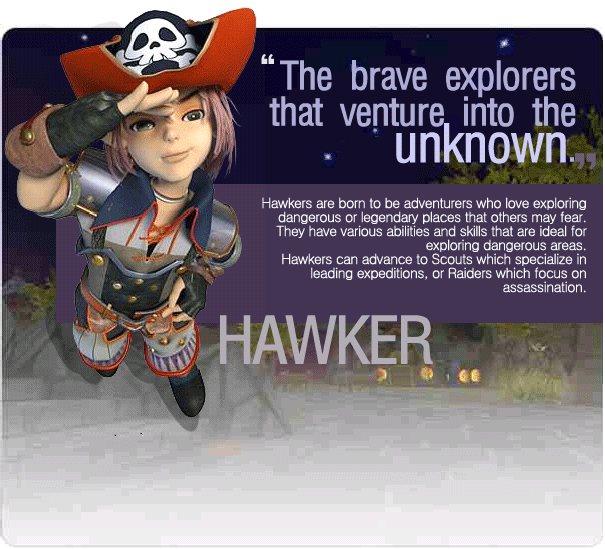 Basic Information
Hawkers are the dual weapon users and archers of Rose Online, with the highest attack speed and movement speed of all the classes.
Hawkers' main weapons are Katar, Dual Sword, Bow, and Bow Gun. The primary stat for Hawkers is DEX.
A comprehensive list of Hawker armor can be found here:
At level 70 hawkers can advance to either Raider or Scout.
Becoming a Hawker
Skills
Here is a list of skills for the Hawker basic class sorted into active and passive. For a list of Raider and Scout skills go here:
Note: Some skills require either Raider or Scout class to get past a certain level - this more detailed information is found by navigating onto the individual skill's page. Skills which change name after upgrade can be found on either the Raider or Scout skills page respectively.
Passive Skills
| | | | | |
| --- | --- | --- | --- | --- |
| Image | Name | Description | Type | Skill Book Price |
Active Skills
| | | | | |
| --- | --- | --- | --- | --- |
| Image | Name | Description | Type | Skill Book Price |